THE WEAVE SALON 2022
Dancing with the rivers, listening to the roots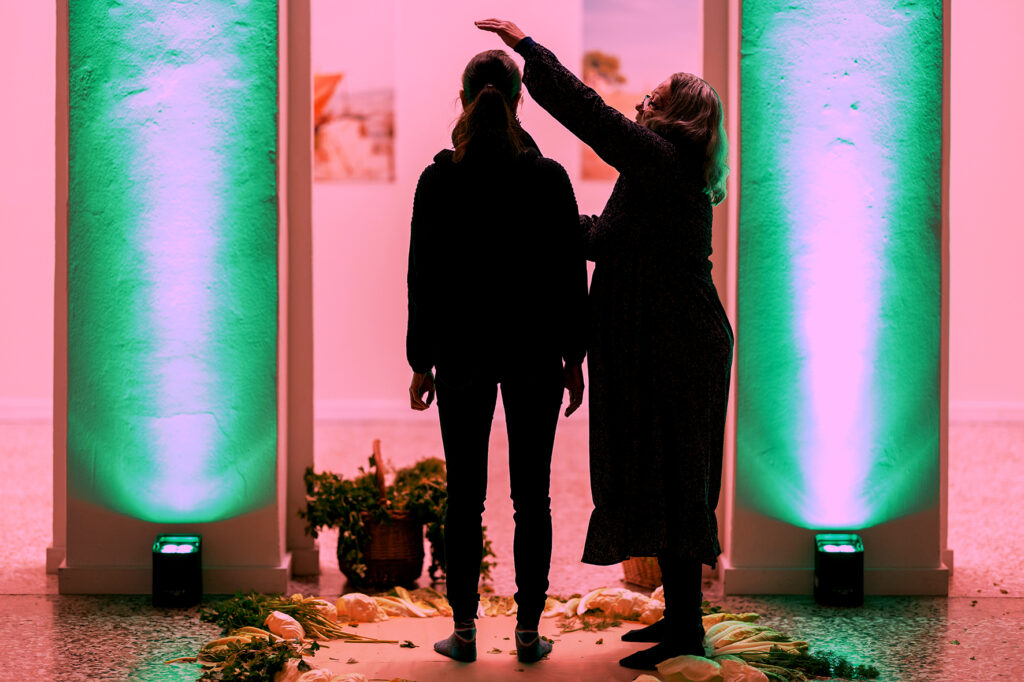 20th Weave Salon: Healing Circle
with Consuelo Méndez Wayuú
13 December 2022
Afro-Asiatian Institute Graz
The performance is part of the exhibition
"La Mur: seven polyphonich compositions for moulting"
The circle is made of leaves, the healing starts with the act of accepting the invitation and entering a small sacred space. Consuelo chants Yorubá songs and uses special herbs, selected as the person enters the space and she feels the energy. Wayuú ancestors of Consuelo, as well as her  intuition guide the ceremony.  As a visual artist with a feminist and activist career, Consuelo weaves through this performative practice, embodied wisdom and spiritual aesthetics.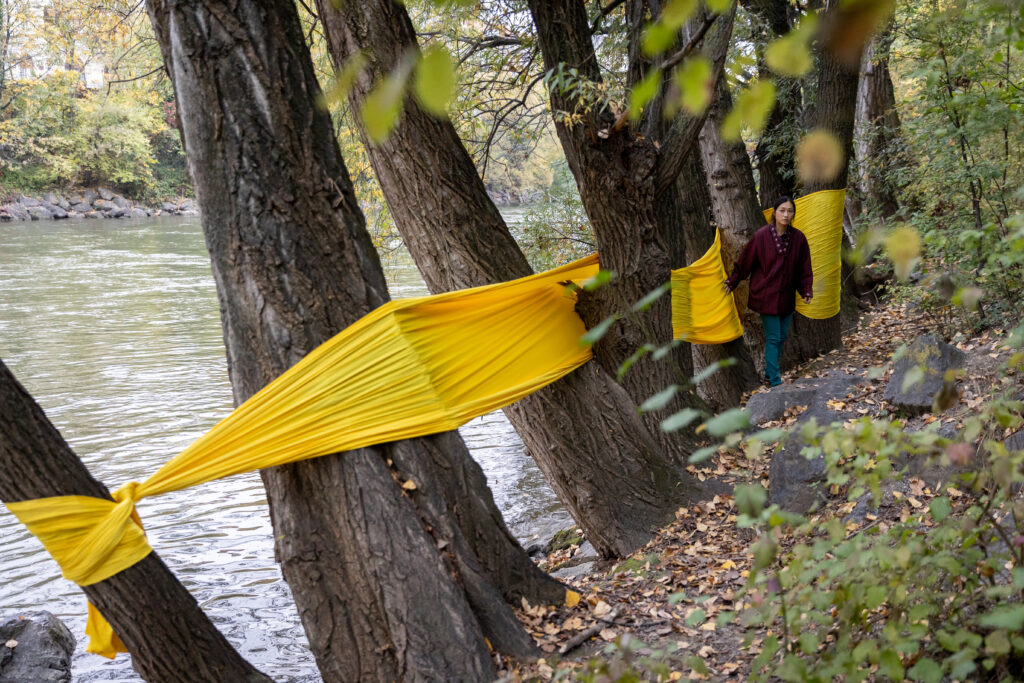 19th Weave Salon: Sensus ludens – Homo communis
a walking performance with
Se-Rok Park & the Mur
12 Oktober 2022
Spektral, Lendkai 45 Graz
In solidarity with the day of indigenous resistance, we invite you to a performative experiential Walk with and around the Mur River, a border-transgressing entity, that flows through diverse landscapes and has survived several havocs throughout its history. In this Co-Creation with the bodies of water, the river's and ours, we will walk, sound, play, listen, improvise, perceive and move together as well as for oneself in reciprocal ways with a sense of playfulness and maybe a feeling of connection.
*
*
*
*
*********************
THE WEAVE SALON 2021
Hex the Patriarchy //* Healing Protocols
18th Weave Salon: More sugar, honey?
03 December 2021 in the exhibition "Sugar, industrial heritage and colonialism" in < rotor > association for contemporary art
WITH Daniela Brasil, Hyo Jin Shin,  Otto Oscar Hernandez, Peninah Lesorogol and Mandy Mozart
An emergent ritual, an ancestral futuristic performance, a voicing exercise or perhaps an inquiry on the relations between sugar, coloniality and our personal personal stories.
due to the Lock-down measures, this Weave inaugurated a more intimate, ritualistic and performative format,  available in a video-piece.

xxxxxx
17th Weave Salon: Rebellion für das Leben // When the Roots start moving
5, 6 October 2021 Zapatistas Reise in Europa  – Jugendzentrum Explosiv
in Collaboration with Zapalotta and the Zapatistas Willkommenskommittee Graz
WITH Alessandra Pomarico & Nikolay Oleynikov // Music Akadiy Kot Band
presentation of the book:  "When the Roots start moving. Navigating backwards: Resonating with Zapatismo" published by Archive Books and Free Home University, 2021
xxxxxx
16th Weave Salon: Stories from Abya Yala 
17 September 2021 – Commenting the artworks Dioses de America & i yõ kikre // Lichtung
Exhibition Entanglements in Afroasiatisches Institut Graz:
WITH Antonio Briceño, Daniela Brasil & Nayarí Castillo // Music by Jorge Castizaga & Pedro Campoverde
xxxxxxx xxxxxxx xxxxxxx
THE WEAVE SALON 2015-17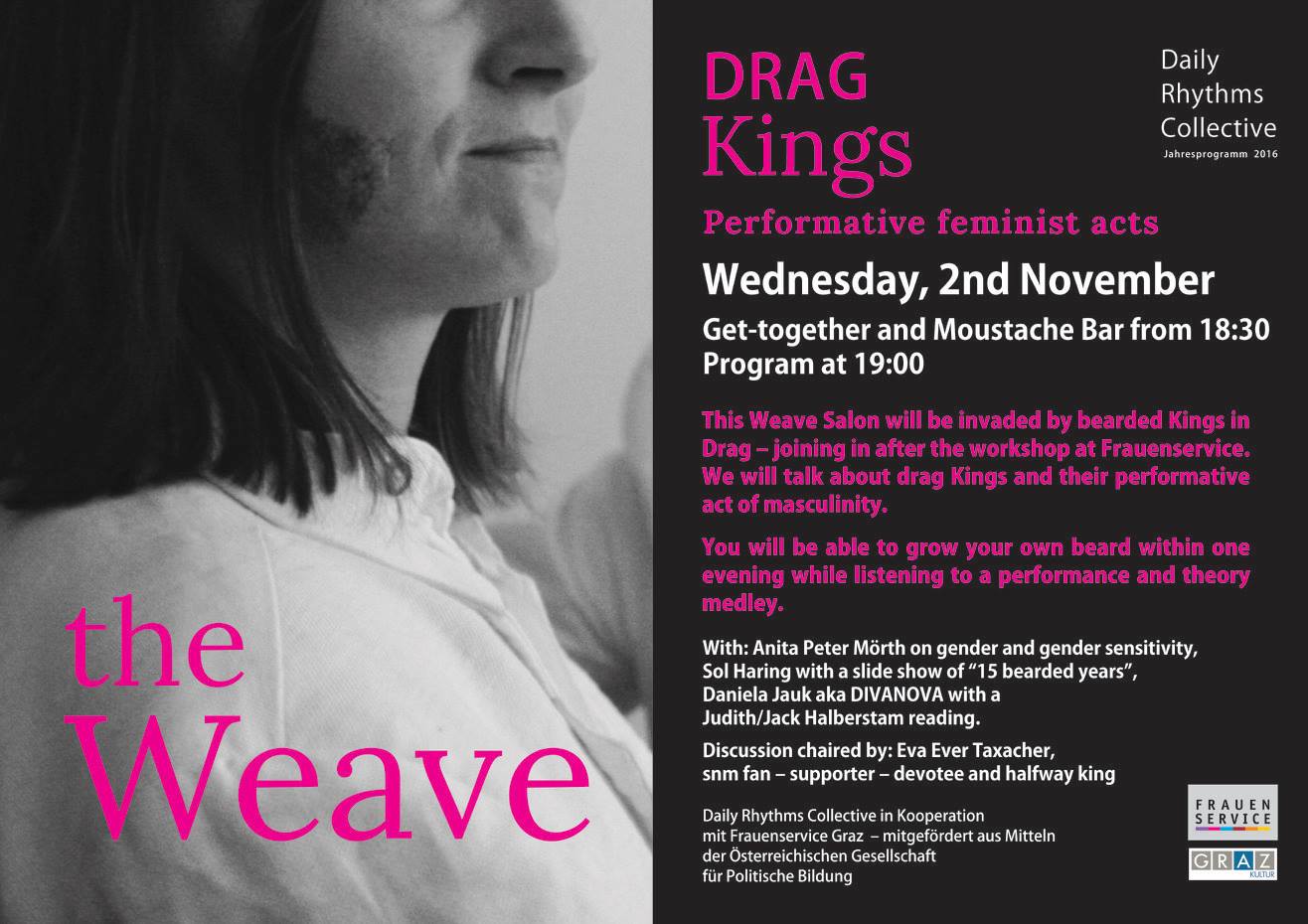 Staged monthly from April 2015 at the Daily Rhythms studio in the Glacistrasse, the Weave was a cultural salon to explore women's issues and different strands of feminisms from theoretical and practical perspectives, while also providing opportunities for women from the cultural and art scene and all backgrounds to network in a relaxed and friendly environment. A small feminist library has been established for attendees and members. Weave salon events incorporated relevant talks by experts and academics, performances by musicians and performance artists, pertinent exhibitions, workshops and presentations.
Themes for events over the year 2015/2016 have included:
online harassment; women and migration; cis and transgender feminisms; body image;
age and sexuality; diverse masculinities; reclaiming public space,
feminist perspectives on visual art with a focus on Graz-based artists…
Among the guest speakers, performers and artists were:
Sol Haring, Daniela Jauk, Margarethe Maierhofer-Lischka, Senta Bremstein, RESANITA, Katja Cruz, Eva Ursprung, Irina Karamarkovic, Reni Hofmüller, Huda Takriti, Sazgah Salih, Veza Fernandez, Elif Yalcinkaya, Caroline List, Tatjana Petrovic, Gudrun Jöller, Eva Taxacher, Elena Muti, Eva Wagner, Stefanie Egger, and many others.